List of Top 10 Best schools in Raipur for Admissions 2022-2023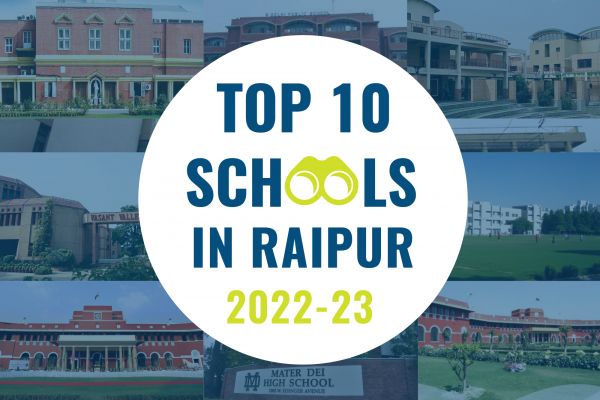 Top 10 Schools in Raipur
The main tool for bringing about any desired change in our life is education. Education is essential for the development of young brains because they are the foundation of any nation. Your children's future success is greatly influenced by the school they attend. Therefore, all parents have a desire to enrol their children in the best schools. In Raipur, there are numerous prestigious institutions of learning. However, when it comes to determining which are the best schools in Raipur parents can feel a little confused. But we are here to help with the list of top 10 schools in Raipur for the holistic development of your child. The list of the top-rated schools in Raipur has crucial information about the academic curriculum, athletic resources, and educational standards.
Aditya Birla Public School
Aditya Birla Public School is considered one of the best schools in Raipur. It is a coeducational senior secondary school with an English medium. The Central Board of Secondary Education (CBSE), which is a member of the Delhi Board, is associated with the institution. Students also receive training in music, sport, art, drama, dance, and information technology in addition to regular academic subjects. The campus boasts gorgeous scenery. The school believes in delivering superior values to the students so that they become the world's best citizens to contribute to the community at large.
MM School
The letters "MM" in the school's name are a tribute to the late Shri Mansharam Thourani and Late Smt. Meera Devi Thourani. The MM School offers a flexible educational approach, making it one of the best schools in Raipur. Students enrol in classes at MM Schools from 1st to 12th grade. It is a CBSE school and has various facilities like AC transportation, smart classrooms, a library, an arts and fine arts studio, a spiritual and health centre, laboratories, and a dining hall. Along with cultivating their academic curiosity and ability, children are taught how to grow personally and responsibly in their communities.
Krishna Public School
Krishna Public School is a well-constructed facility shielded from the chaos of the main city. It offers classes from Nursery to 12th grade and is among the top-ranked schools in Raipur because they lay equal emphasis on co-curricular activities. Students are encouraged to participate in a range of club activities, cultural events, sporting events, festivals, etc. to develop their whole personalities in addition to their studies. The school's facilities allow students to enhance their dancing and painting skills, while the school's sports field allows them to practise their preferred team sports. A digital library and e-learning tools are also available to ensure tech-savviness among the children.
Brighton International School
Brighton International School is one of the top-ranked schools located in Raipur, a co-educational day-cum-boarding school. It derives its name from an amalgamation of two words Bright and Nation, which defines the objective of the school to create students that will build the nation and be leaders of tomorrow. The CBSE school was established in 2010 and provides classes from Nursery to 12th grade. They follow a lesson planning approach called the 'The Brighton Way' which includes parameters like activity, assignments, classwork, etc. The over 2 acres of campus is equipped with numerous sports facilities, an auditorium, an academic building, and lovely green meadows. The school provides facilities of hostel and cafeteria, there are AC and non-AC boarding facilities as well.
Monnet DAV Public School
Monnet DAV Public School established in the year 2006 is committed to creating a conducive learning environment to grow the children of tomorrow. This CBSE school has digital classrooms and believes in using the latest technology for education as a way to boost student engagement. There is no doubt it is a top-ranked school in Raipur as it has even received accolades from British Council for its co-curricular activities in partnership with other schools abroad. The school has science labs, a library, activity rooms, and a transportation service.
Swami Vivekanand Higher Secondary School
Swami vivekanand higher secondary school is one of the best schools in Raipur, it was founded in 1992. It is a co-ed day school that provides education to the students from nursery to class 12th. This school offers all the tools required to make learning easier. Its campus boasts a contemporary infrastructure and offers amenities including well-equipped laboratories, computer labs, libraries and electronic libraries, canteens, and transportation options. English is the primary language of instruction for the students, and it is associated with the CBSE board. This school uses an inclusive education model to give each child with different needs individualized care.
N H Goel World School
N.H. Goel World School is a CBSE school that offers classes from Nursery to 12th grade. It is one of the best schools in Raipur with an expansive campus spread over 60 acres with world-class indoor and outdoor learning and sports facilities. Students have access to athletic fields, swimming pool, field sports like football, volleyball, basketball, cricket, etc., as well as art, music, theatre, and other kinds of cultural activities. The school offers many innovative and fun activities, including drama, leadership programmes, cooking, quizzing, robotics, creative writing and debating, water/poster/fabric painting, clay modelling, and pottery making too. They really emphasize divulging students' interests rather than only getting them to exceed academically.
Delhi Public School
In the Indian educational system, the DPS Society is a pioneer in quality education since its establishment in 1949. The Delhi Public School is thus among the top-ranked schools in Raipur that provides modern education with culture, inculcation of values and physical education. DPS is dedicated to upholding high standards in its pursuit of excellence and staying mindful of concerns relating to human resources for their care, training, enrichment, and development. The school has an idyllic location near Vidhan Sabha Road so it has got good convenience and tranquil surroundings for students to study in. Needless to say, this CBSE school is one of the best schools in Raipur to enrol your pupil.
The Radiant Way School
The Radiant Way School is a co-ed CBSE-affiliated school that offers classes from standard 1 to 12. The school has excellent facilities and contemporary amenities. Their mission is to develop each student holistically while fostering their self-confidence. The school also boasts a large yoga studio, a science lab, and an exhibition making it one of the top 10 schools in Raipur.
Holy Cross Senior Secondary School
Holy Cross Senior Secondary School is a CBSE school run by a Christian religious group – the Society of the Catholic Apostolate. Established in 1949, it has classes from nursery to 12th standard. The school has all the basic amenities like laboratories, a playground, a library, indoor and outdoor sports and a transportation facility. As a school, they live up to the ideals of St Vincent Pallotti the founder of the society and encourage students to be kind, engage in charity, service to mankind and peaceful living. They also host several cultural activities and competitions to teach students about different cultures and diversity.
These are a few of the top schools in Raipur and if you still need assistance deciding which one to send your child to, Skoodos is here to help. On our platform, you can compare different top-ranked schools in Raipur and select the one that is best for your child. Over 100 schools located all over Raipur are listed on our platform. All of the required information regarding these educational institutions in Raipur has been compiled on the Skoodos site. Find the best and most appropriate school in Raipur for your child by comparing the fee structure, infrastructure, admissions process, amenities, and other important characteristics of various schools.
Here are few more emerging schools in Raipur like Mothers Pride Senior Secondary School, Podar International School, G D Goenka International School, Venkateshwar Signature School
---
Published on:

05 Sep 2022