List of Top 10 Best Schools in Shimla for Admissions 2022-2023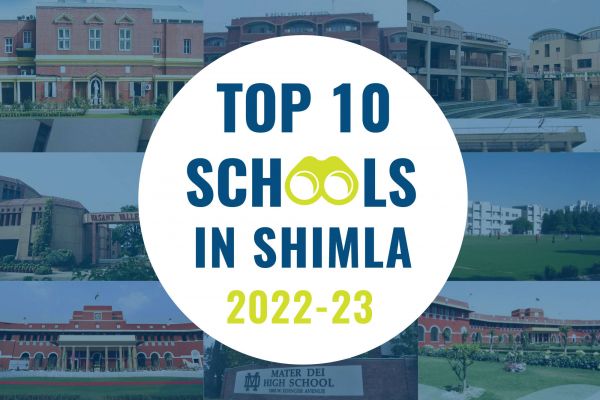 Top 10 Schools in Shimla
There is no doubt that Shimla has always been a place with high standards in everything it does. It's not just the history and attractions it offers, but also its colleges and schools that are worth considering for everyone who wishes to get admitted. Here are the top 10 schools in Shimla for 2022-2023:
Chinmaya Vidyalaya
The school is a leading co-ed school that is affiliated with the Central Board of Secondary Education (CBSE). It prepares students for the future and stands high within inculcation of values and discipline in its students.
One of the finest residential educational institutions in the country, it provides international standard hostel facilities & education at the primary, middle, secondary & senior secondary levels to both boys and girls.
Students can choose between various sports activities such as basketball, hockey, badminton (both singles and doubles), tennis (singles or doubles), athletics (track and field events), ping-pong (table tennis), cricket (bowling), football or soccer.
Loreto Convent
Loreto Convent School is a girls' school in Shimla, India. It was founded by the Loreto Sisters in 1848 and is one of the simplest schools in Shimla - a day school for women. Since 2010, it had been affiliated with the ICSE Board until 2015 when it joined the CBSE Board, Delhi. This school provides education from Nursery to Class XII English medium.
Bishop Cotton School
Bishop Cotton School was founded in 1859 and has since completed 150 years of operation. Its alumni have achieved great success, serving the country in top positions. The school features a campus area of 56 acres and about 500 students are enrolled presently.
Saraswati Vidya Mandir
Saraswati Vidya Mandir is a private school with separate hostel wings for girls and boys. The campus is Wi-Fi-enabled, which helps students gain knowledge from the Internet. A small temple has been built near the school for staff members and students to pray. This is one of the best schools in Shimla city.
Convent of Jesus and Mary High School
The Convent of Jesus and Mary High School is a girls' school in Shimla. It is affiliated with the Central Board of Secondary Education (CBSE), and it is located in the surrounding mountains that are part of Shimla's green belt. In addition, the school has all the facilities needed for excellence, including teachers skilled at ensuring that each child gets personalized attention. This school is one of India's Best Schools as per Education World Magazine.
DAV Public School
DAV Public School is a well-established school in Shimla, established before independence and opened in 1934. The school provides quality education for its students, enabling them to turn their dreams into reality. There's a library, indoor and outdoor sports, canteen, medical room, art and craft room, computer lab, science lab, and math lab on campus.
Auckland House School
Auckland House School was founded in 1836 by Lord Auckland, then Governor General of India. The school is one of the best schools in Shimla, and it has separate wings for boys and girls. In addition, the school follows strict discipline which helps students become responsible and independent. Campus facilities include the First Aid Room, Recreational Clubs, Hiking and Trekking, Library and Science Labs, Computer Lab, and Art Room.
JNV Theog School
JNV Theog School is a residential school that was established in 1986. It has 27.4 acres of land and is located on a green landscape surrounded by groves of pine trees and offers a great view. It is affiliated with the Central Board of Secondary Education (CBSE) and has a boarding facility with all the facilities. The school focuses on the overall development of the child and its boarding facility implements strict discipline measures.
Dayanand Public School
Dayanand Public School is one of the most popular schools in Shimla, and one of the reasons for its popularity is that it is managed by a charitable trust. This ensures that students get an excellent education, as well as access to all the necessary facilities. The school is affiliated with the Central Board for Secondary Education (CBSE). Facilities include smart classrooms, science labs, computer labs, a math lab, and a sports ground.
St. Edward's School
St. Edward's School is a co-ed school managed by the Shimla Chandigarh Educational Society. The school currently offers both primary and secondary education. It was founded in 1882 and was formerly affiliated with ICSE, but this affiliation was changed to CBSE in 2005. The campus includes spacious classrooms, a library, two science labs, and playgrounds for sports activities. A music room and extra-curricular activities such as drama club are available as well.
Final Words
We hope this compilation of Top 10 schools in Shimla has given you some idea of the variety of schooling options available in Shimla. We have tried to present all sides of various schools so you can make an informed decision while choosing a school for your child.
Here are few more emerging schools in Shimla like D A V Centenary Public School, Bluebells Public School, Bishop Cotton School, Chapslee School, Shimla Public School, Sri Chaitanya Junior College
---
Published on:

23 Aug 2022