List of Top 10 Schools in Dehradun for Admissions 2022-23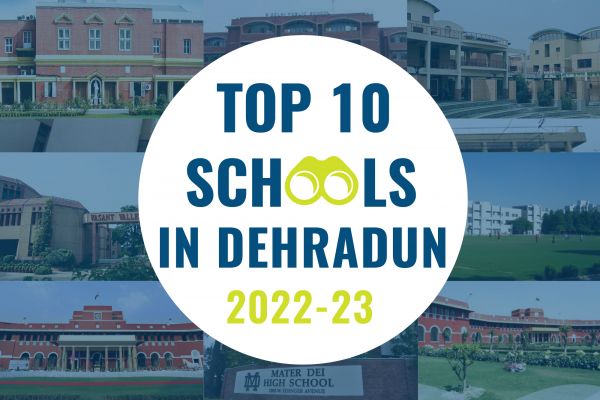 Top 10 Schools in Dehradun
Dehradun is known as the 'School Capital of India' because it has so many schools that offer world-class education. From boarding facilities amid the mountains, day schools, and all girls/boys schools, there are several schools in Dehradun that follow international standards of education. In fact, education is highly prioritised in this city of hills in Uttarakhand. If you want to enrol your child in the top-ranked schools in Dehradun, we make the search easier for you with a comprehensive list. We have listed the top 10 schools in Dehradun along with their main features, and you can make a wise decision considering several factors. A child that grows up within the best educational facilities will head towards a bright future.
Welham Boys School
A lot of parents prefer putting boys into a training school so they grow up without any distractions. If you are one among them, wanting to enrol your boy into a boarding school, then Welham Boys School is one you can consider without a second thought. It is not just the top-ranked school in Dehradun but in the entire nation for boys boarding schools based on the Educational World rankings. The school provides the right learning environment as well as empowers students to grow into responsible citizens. They have a multi-dimensional approach to knowledge.
Welham Girls School
The Welham Girls' School is a boarding school in Dehradun, adjacent to the boys' school by the same institution. This ICSE-affiliated school is among the top schools in Dehradun equipped with state-of-the-art laboratories, an open-shelf library and a resource centre. Audio visual aids are used in teaching and greatly emphasize projects along with academics. Group activities and discussions are encouraged as much as extra-curricular activities like sports, dance, dramatics, yoga and computer science. The school offers more than 30 subject combinations in high school and also has national and oversees exchange programmes.
Doon International School
When looking at the Top 10 schools in Dehradun, you cannot miss out on Doon International School. The co-ed school follows a CBSE curriculum and is committed to providing quality education within a safe, intellectual and disciplined learning environment. It is a day cum boarding school in Dehradun with classes from nursery to 12th standard. They have activities that encourage leadership, team spirit and creative expression among all students. Children are inculcated with the right values from an early age. The school has students from several parts of the world and thus promotes diversity and multi-cultural belongingness among every student.
Unison World School
Unison World School is an All Girls' Residential School with classes from grades 6 to 12. A part of the Unison Education Foundation, this school is committed to teaching a wide range of skills in children's formative years. With a value-based learning international curriculum with the finest accommodation facilities, it is one of the best schools in Dehradun for girls. Set amidst the countryside, it has a beautiful campus including a swimming pool and play fields for different sports. Safety and security will not be a problem as they have female staff and security personnel round the clock.
Ecole Globale International Girls' School
There are many top schools in Dehradun for girls, and Ecole Globale International Girls' School is one among them. A fully-residential girls' school under the aegis of Asian Educational Charitable Trust it provides holistic development to girls on their well-equipped and tech-savvy campus. Spread over a lush green campus of over 40 acres, it has a scenic view of the Shivalik Ranges. It is a zero-emissions campus which thus inculcates the idea of sustainable living. It is one of the few top-ranked schools in Dehradun that gives students a choice to select their board between the Central Board of Secondary Education (CBSE) and Cambridge International Education (CIE).
Ann Mary School
Ann Mary School Established in 1985, this is a co-ed school registered with the CISCE board of education. They have classes from nursery to 12th grade and are equipped with modern amenities for resourceful teaching. There is a well-stocked library, computer lab, transportation facility, laboratory for physics, chemistry, biology, etc. and playgrounds for sports activities. The school also organises an international exchange program to teach students about different cultures and grow in coexistence.
Indian Public School
The Indian Public School boasts 80 acres of campus space, providing a naturally pleasing playground for children. A co-ed and residential school offering classes from Grade 1 to 12, it is affiliated with the CBSE board. What stands out between Indian Public School and other top schools in Dehradun, is their customisation to include the fundamentals of the Indian gurukul system in education. Its mission is to blend the Indian traditions with advanced learning tools and techniques to foster Academic Excellence, Physical Fitness, Psychological and Spiritual Health and Social consciousness. They want to empower every child to be responsible towards one's culture and heritage as well as excel academically.
Woodstock School
Affiliated with the IB curriculum, Woodstock School has been running for over 150 years. The school is jointly accredited by the Council of International Schools (CIS) and the Middle States Association (MSA), having been the first school in Asia to receive MSA accreditation in 1959. It is a private, residential and nonprofit foundation in Mussoorie, located in the foothills of the Himalayas. The school sees great diversity of multi-cultural and international students, studying together in a holistic educational programme. It is one of the best schools in Dehradun that teaches students to become global citizens and effective leaders. It is a residency school set in the perfect environment. Their educational vision wants students to develop a deep sense of vocation and flourish in a complex world.
Mussoorie International School
Set in the pristine hills of Mussorie, Mussoorie International School is another girls' residential school near Dehradun. It has seen students from over 27 countries over the last three decades. Affiliated with the ICSE board, it offers global education in an enriching environment to learn about and within different cultural values with a modern outlook. They make students ready for competition through an academic curriculum that emphasizes content and skill. It teaches them an integrated approach to applying classroom learning to real-life situations.
Columbus Public School
Columbus Public School is a co-ed CBSE school in the Rudrapur area of Dehradun. They have classes from grade 1 to 12th and even have hostel facilities. They have also started a separate wing for toddlers from pre-nursery. The school has well-ventilated classrooms with CCTV surveillance, a sprawling playground, a big hall library and laboratories for all subjects as required. There are a few digital classrooms with smart boards, LCD projectors and computers. The objective of the school is to offer qualitative education and enhance students' skills required for future life. They have numerous activities to let children explore their talents along with academic excellence.
These are the top 10 schools in Dehradun where you can consider to enrol your pupil. If you want to admit your daughter to an all-girls school, Dehradun indeed has some of the best residential schools. You can jot down your pre-requisites for your child's school and narrow down some options from our list of best schools in Dehradun. To help you make the choice simpler, you should check out Skodoos, where we have detailed information about all the top schools in Dehradun. Just search according to the city and area to find all the details in one place.
Here are few more emerging schools in Dehradun like Wynberg Allen School, Sanskar International School, Oak Grove School, The Himalayan Public School
---
Published on:

07 Sep 2022