List of Top 10 Schools in Vellore for Admissions
Category: Top Schools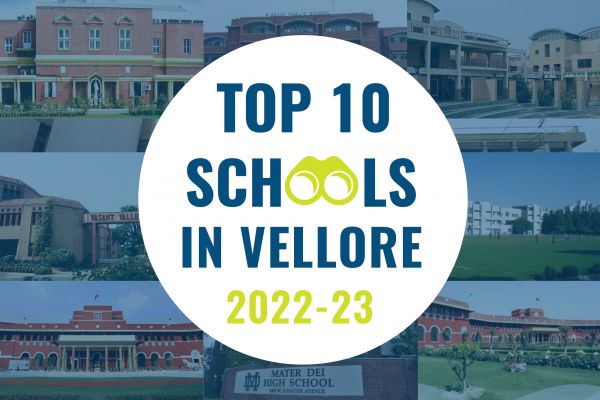 Vellore is a popular city located in Tamil Nadu, in the southern part of India. The speciality of Vellore is that it is known as the leather hub of India. Hundreds of leather factories are based around Vellore and nearby towns, such as Ranipet and Ambur. It is also one of the most scenic cities in South India, with several beautiful tourist attractions. In today's world, education is vital for the overall development of an individual. Vellore is also home to some of the best schools and colleges that are well-known for their top-notch educational standards. We have compiled a list of the best schools in Vellore to help parents select the best school for their child. Let's learn about these institutions in some detail. Below is the list of the top 10 schools in Vellore that are known for providing excellent quality education to children.
List of Top 10 Best Schools in Vellore
Sree Jayam School
Sree Jyam School is the first on our list of Top 10 Schools in Vellore. It is an ICSE board school that was founded in the year 2009 under the "Ramajayammal Educational Trust." The school believes in educating children for their all-round development. Sree Jayam Jayam School also has a strong reputation for offering holistic education to its children, which makes it one of the Top Ranked Schools in Vellore. They offer students several opportunities to showcase their talents by conducting various competitions. To make their students succeed in the real world, teachers focus on cultivating critical thinking skills and leadership skills in children.
Ida Scudder School
The next on our list of Best schools in Vellore is the Ida Scudder School. It was established in the University of Cambridge Local Examinations Syndicate with the assistance of the Interstate Board for Anglo-Indian Education. If you're looking for a school teaching the ICSE curriculum meticulously, at least for the past ten years, then your best bet could be Ida Scudder School in Vellore.
The school strongly focuses on its mission to develop students with leadership qualities along with imparting them with a strong value system. They teach humility, integrity, and compassion for others, keeping an equal focus on education, making it one of the Top Schools in Vellore.
Sunbeam - CBSE and Matric Schools Vellore
Sunbeam - CBSE and Matric Schools is one of the Top Schools in Vellore for your children if you wish for them to succeed in academics and life. They create an environment that promotes excellence by encouraging and guiding their students. They have got top-quality amenities, facilities, and equipment for the school children. The staff at Sunbeam are trained to make the students perform to their maximum potential. They also believe in keeping themselves updated with the latest ongoing trends and news in education and try to adapt to the same.
Keerthiga Matric Hr Secondary School
Keertiga School is considered one the best schools for children in Vellore, as they focus on the excellence of education and knowledge. This school was established in 2003 in Vellore Sugar Mills, Vellore. Keertiga School is one of the Top Ranked Schools in Vellore, especially for primary children, as they are committed to creating a strong foundation by offering exclusive learning programs. They conduct several co-curricular activities, such as yoga and meditation, that will help improve the classroom focus of the children. They also focus on value-based learning by conducting various character-building activities for students to build strong ethics and moral values.
Srishti School
Srishti School was founded in June 2002 and has since then been regarded as one of the Top Schools in Vellore. The word "Srishti" means creation; hence they believe in creating a highly competitive learning platform for shaping the youth for tomorrow's upcoming challenges. They believe in respecting every child's space and boundaries. The school follows a unique approach to teaching and learning. They have all the latest technologies in education implemented along with infrastructural backup. There is a thriving culture of free-thinking in students.
Freedom Concept School
The next on our list of best schools in Vellore is the Freedom Concept School which is a private, coeducational day school that promotes the holistic development of all students. It was founded in 2005 and is affiliated with the Central Board of Secondary Education (CBSE) board. In addition to helping the kids realize their potential by providing a hassle-free academic environment, the school also gives the students access to the latest technologies in education to equip themselves to become the best of the lot. The school has modern classrooms with wireless audio systems. There are also fully computerized halls for staff with personal computers and other additional facilities. All of these features make it one of the best schools in Vellore.
BMD Jain School
The BMD Jain School is next on our list of the Top 10 Schools in Vellore. It was founded by R. Kanyalal Jain. The school is affiliated with ICSE through the Senior Secondary Level. It is one of the top-ranked schools in Vellore. The school believes in promoting mental, physical, and spiritual excellence with a motto of "Right faith, Right Conduct, and Right Knowledge. The school offers numerous opportunities for the children to get inspired and equips them with the required skills, knowledge, and values to become better citizens. This is the one to go if you're looking to get your child admitted to a school that focuses on all-around development.
Pincushion Montessori International School
Pincushion Montessori International School is an educational institution in Vellore that is deeply committed to laying the foundation upon which every student may create a lasting and impressionable educational experience. They use the traditional Montessori Approach, which makes it one of the best schools in Vellore. It has a multi-sensory curriculum so that individualized teaching takes place and students face challenges, which in turn will hone their problem-solving skills. It is affiliated with the CISCE board and is a coeducational day school for students in pre-nursery through grade 12.
Ethiraj Matriculation School
The next on our list of the best schools in Vellore is the Ethiraj Matriculation School. Started in 1993, it is located in the heart of the city of Vellore. The school has an impressive infrastructure that is sustained by its management, principal, faculty, and students. It is one of the Top ranked schools of Vellore, and its former alumni are doing very well for themselves. Some of their alumni are practising in fields such as law and medicine, while some are working as volunteers in different NGOs and organizations.
Williams Matriculation Higher Secondary School
The last one on our list of best schools in Vellore is the Williams Matriculation Higher Secondary School. It is possibly one of the best schools for your ward as the school firmly believes in the holistic development of children. Co-curricular activities such as sports are given equal importance to academics. This school has been operating for more than 60 years and has a very qualified & experienced staff. If you are looking for a school that will educate your child and make them responsible citizens in the future, then look no further than Williams Matriculation Higher Secondary School.
Final Thoughts
We hope that this list of the top schools in Vellore will be useful when choosing the best school for your child. We believe you would definitely find a good pick from our list, so don't hesitate to choose one of these options. We at Skoodos are here to help you choose the best school for your children, no matter which city or part of the country you belong to. Keep yourself updated by frequently visiting our website!
---
Published on:

17 Jan 2023