Modern Education helps a Child in keeping Up-to-date with the future.
Category: School Coverage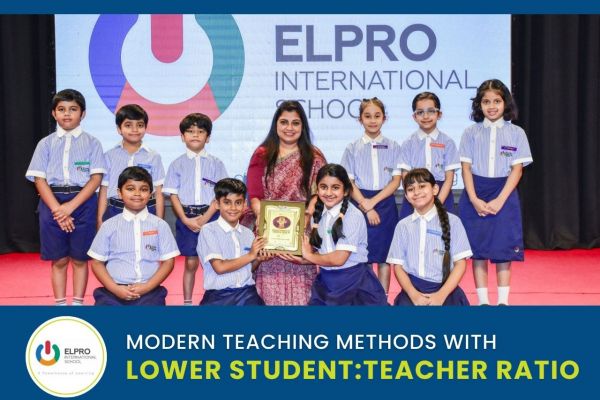 Education has changed a lot from what it used to be, the brick and mortar system of education does not suffice now and new measures are required. Very few schools actually indulge to make education better for students and those that do are not competitive enough.
Our children require a quality education that will be a preparation for their future and success, to have it there are a few things every school should possess-
Experiential or Practical lessons
The lessons, if just taught and studied theoretically, do not have the same value as a more practical approach. If the students are taught in a creative manner, everything theoretical is shown practically which not only helps children in learning and actually understanding the concepts faster but also develops a proactive mindset. The thought process of students becomes more problem solving and more creative, development of a student's cognitive skills gets enhanced and enriched.
Lower Student Teacher Ratio
It is usually great if teachers can bestow individual attention on the students but it is usually not possible in schools with a larger number of students , but a lower Student-teacher ratio helps teachers give their undivided attention to the students and keep an eye on their doings.
Lesser students-teacher ratio ensures that the students can be managed by the teachers and give equal and undivided attention to the students, an ideal student-teacher ratio is usually considered to be 20:1, lesser than that can be a pointer towards the inefficiency of the school and more can be a mark of poorly funded school.
Civic Engagement
A child must be made aware of their civic responsibilities and given civic education. Students should be prepared by educational institutions to be successful members of their communities, voters, and citizens.
High-quality civics education can be imparted by participating in classroom activities that serve as examples of democratic procedures and have the chance to actively engage in community civic life while receiving official credit for it.
At Par Communication Skills
If a child can not convey their thoughts and ideas in a respectful and efficient manner, it will not be easy for them to achieve in life. School must focus on building public speaking skills and communication skills in a child by indulging them in activities like Group Discussions, debates, public speaking and extempore that prepares them for the real world.
A school that encourages all of this and more to their students at Elpro International School, they aim to provide a safe environment that would also insure and encourage students to learn.
The school is situated in the populated areas of Pune and is one of the top schools that believe in providing quality education to its students.
The school believes in advancing at the same rate as education, they evaluate Learning by testing student improvement rather than grades. By consistently pushing the students, they strive to provide the finest.
By creating an ecosystem that will enable students to be future-ready through their well-grounded teachers, top-notch academics, curricula, and certifications, cutting-edge infrastructure and facilities, and committed support personnel.
If you wish your child to be a part of this school, the admissions session 2023-24 are open and you can easily apply
---
Published on:

21 Dec 2022