List of Top 10 Best schools in Erode for Admissions
Category: Top Schools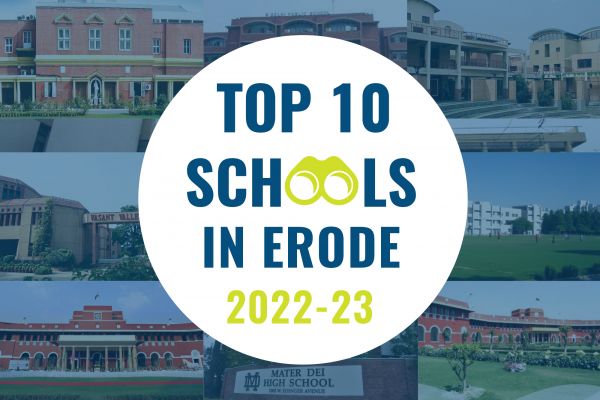 Erode is the seventh-largest urban agglomerated city in the Indian state of Tamil Nadu and is situated on the banks of the River Kaveri. Turmeric cultivation and textile production are Erode's two most well-known industries. Are you a resident of the Erode District and uncertain of the Best Schools In Erode? Enrol your kids in the top schools in Erode so that they can compete efficiently with the fast-changing educational landscape. Our main goal is to provide parents with accurate information about the top-rated schools for their wards. We have compiled some information on the top schools in Erode. If you are a parent looking to enrol their child in the academic year 2022-23, check out our list of the best schools in Erode.
List of Top 10 Best schools in Erode
Erode Hindu Kalvi Nilayam Mat hr. Sec School
The school is located in Mamarathupalayam, Erode, South India, in a rural setting amidst scenic surroundings. It is a coeducational English medium school. The Director of Higher Secondary School Education, Government of Tamilnadu, India, is aware of it in the interim. Therefore, the entire student network from Kids to XII is overseen by devoted and meticulous personnel who work hard to shape students' academic progress.
Aerokids Erode
The next school on our list of top 10 schools in Erode is Aerokids Erode. Everything at Aerokids is designed to provide your child with the best care possible in a safe and loving environment. Aerokids uses a remarkable methodology because it combines cutting-edge training with social conventions and traditional values. Additionally, they have created a preschool environment that is calm, fascinating, and accepting of each child at every stage of their development. Kids will therefore gravitate toward age-restrictive, sensitive toys and books that have been designed and developed around the school's mascot Aeronaughty.
Christhu Jothi Matriculation Higher Secondary School
The Chirsthu Jyothi Higher Secondary School is also one of the best schools in Erode. It is the zone's first matriculation school. This school began modestly in Thirunagar Colony in Erode with just 16 pupils. The Christhu Jyothi Matriculation Senior Secondary School, run by the Tamil Nadu government, is an English medium school that started on June 4th, 1974. As a result, it is accessible to people of all faiths, casts, and religions and provides the equal right to education for every child in the region. The school holds true to its motto, "Serve in Love."
Kongu Kalvi Nilayam Matriculation Higher Secondary School
The next on our list of best schools in Erode is the Kongu Kalvi Nilayam matriculation higher secondary school, which is managed by the Kongu instructive trust in Bangladesh. The school was established in 1988. With the administration in mind, the school aims to provide better instruction to everyone. In all these years, they have collaborated with families and other network members to provide students with safe, aware, robust learning experiences that inspire them to reach their full potential in an undeniably free world.
SVN Matric Higher Secondary School
Another top-rated school in Erode is the SVN Matric Higher Secondary School which functions under the Saraswathi Educational Trust. This is a co-education institution that is partly residential and recognized by the government of Tamil Nadu. This is the only school in Tamil Nadu to offer placement tests together with captivating and brilliant instruction. The institution believes in upholding strict academic standards, places importance on character development, and keeps co-curricular and extracurricular activities distinct.
The Indian Public School
The next on our list of best schools in Erode is the Indian public school. This school creates a safe environment where students can freely voice their thoughts and can learn how to live morally. The school believes that every child is special and that children learn best when joyful. Their educational activities are designed to on the skills needed to become self-assured, lifelong learners prepared to face the future. Every learning experience results in meaningful action when academic information and skills from many scholastic and co-scholastic fields are integrated. Enrol your kids in these Top Ranked Schools in Erode for their all-round development.
Saratha International School, Gobichettipalayam
Saratha International School, Gobichettipalayam (XI-XII), is associated with the Central Board of Secondary Education. The school offers education from LKG to XII and is a coed day and boarding school. It is an English-medium institution. The Periyakodiveri neighbourhoo0064 in Gobichettipalayam is where the school is situated. Saratha International School was founded in the year 2015. It is a Private School, and Sri Saratha Educational Charitable Trust is in charge of running it.
CS Academy, Vallipurathanpalayam, Erode
The next on our list of top 10 schools in Erode is the CS Academy, Vallipurathanpalayam, which is associated with the Central Board of Secondary Education (CBSE). The school has classes from Pre-KG to XII and is a co-education day boarding school. It is an English-medium institution. The institution is situated in Erode's Vallipurathanpalayam neighbourhood. The CS Academy in Vallipurathanpalayam was founded in 2009. It belongs to CS Academy, is a private school, and is run by LKM Education Trust.
Maharishi Vidya Mandir (MVM), Ingur
Shri Mahaa Educational Trust manages Maharshi Vidya Mandir school in Erode. This School in Chennai's Chetpet is known for teaching transcendental meditation, yoga, and pranayama to students as a part of their school curriculum, alongside providing them with academic assistance. The school believes that a good nation is made up of good teachers and decent pupils. The motto of their Teaching Faculty is "Knowledge is organized in consciousness," and the teachers dress in the guru's garb. "RU" signifies to remove, while "GU" stands for darkness. The guru thus dispels the "darkness of ignorance" at MVM. The Gurus sow the seeds of virtue, insight, and confidence in the Heart.
Richmond Public School
The last on our list of Top schools in Erode is The Richmond Public School. Their main objectives are to help students grow in body, mind, intellect, and conscience while also assisting them in considering how they might use these qualities to benefit their community and country. They ensure that their children succeed in academics and gain an understanding of India's rich cultural heritage. The school will train its students in games, athletics, and extracurricular activities. Their staff is aware of the need to be up to date on the most recent research and development in the field of education. They adopt effective teaching approaches because education is never static.
Summing up:
One of the most important decisions a parent can make for their child is the school they want them to attend. A child's school will impact both their cognitive development and entire personality. Here, we have enlisted Top Ranked Schools in Erode, to help parents choose a great school for their kids. This blog provides a comprehensive list of the best schools in Erode, Tamil Nadu. This list of the top schools in Erode can help parents choose wisely for their children's future.
By providing the list of top-rated schools in your region, Skoodos stands out to help parents make the appropriate choice by guiding them throughout the process with a methodical approach since it recognizes that the proper support may be of incredibly great value for parents.
---
Published on:

13 Jan 2023