List of Top 10 Best Schools in Jhansi for Admissions
Category: Top Schools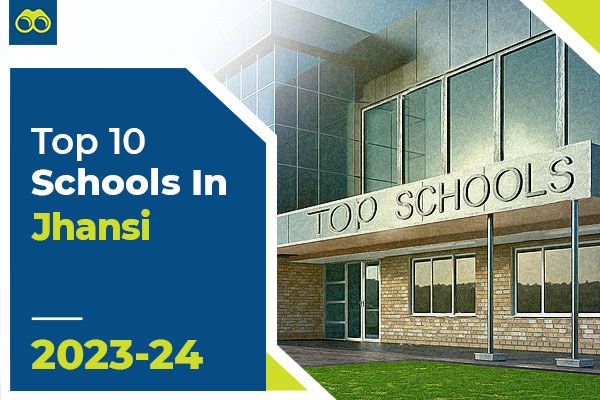 Jhansi, India is a city of over 1 million people and it is one of the most populous cities in India, it is also one of the most important cities in Uttar Pradesh, India. The city is home to many universities and colleges, including some of the best in India. In addition to its academic institutions, Jhansi is also home to a large number of business and industrial establishments.
List of Top 10 Best Schools in Jhansi for Admissions
Blue Bells School, Rajgarh
Blue Bells Public School has worked hard to be sensitive, empathetic, and trustworthy to our children in academics, social, and spiritual areas. The teaching and learning methods of the school are continuously innovative and imaginative.Today's kids will be tomorrow's leaders, and Blue Bells is preparing them for that role. The School strives to continue to provide quality education to kids, and has begun by introducing the Educomp method of instruction. The school believes in providing kids from rural background with means to slowly improve from bad to better performance.
A strong collaboration between them and school is critical to a child's effective learning. It also allows for good communication, which allows for a common goal and mutual understanding. We must keep in mind that every word uttered and every endeavor made is like a drop of water dropped into a pool. The drop itself may vanish, but its ripples will extend far beyond its imagining.
Jawahar Navodaya Vidyalaya
Jawahar Navodaya Vidyalaya Baruasagar, Dist. Jhansi has distinguished itself in the District in terms of academics and producing responsible citizens for the country and this could only be accomplished with the immense dedication of teachers and the rest of the staff who adopted majors that were not different but implemented differently on the overall education of the students. The grooming of students starts the day they join Vidyalaya. Teachers and staff are ready to guide the student and make them feel as comfortable as he/she does at home, and gradually, tiny actions such as making the student Vidyalaya friendly are taken.
The students receive various lessons including day to day lessons like how to dine in the Mess, participation in all extracurricular activities becomes mandatory and these modest steps, in addition to the superb education (which inculcates all components of teaching learning like from classroom to online smart classes with proper use of IT) ensures a good future for children.
Sun International School
Sun International School teaches its kids how to be excellent citizens of the country. It also offers pupils with a safe and healthy atmosphere. The distinguishing feature of SIS is that it places a high value on sports in addition to academics. Every year, several competitions pertaining to all topics are held here, and students enthusiastically participate in them. Aside from academics, students at SIS gain a variety of skills such as excellent behavior, communication skills, responsibility, time management, and athletic abilities. SIS's science and computer laboratories offer all of the newest technology needed to conduct effective studies. SIS generates the most number of board exam toppers.
Delhi Public School
Delhi Public School, a progeny of famous franchises has a top-notch branch in Jhansi and it believes in making its students feel safe and secure and the environment is friendly ensuring that the students find it easy to study and learn. The school believes in encouraging children's curiosity that will always have them learning new things and updating themselves to adapt in the ever-changing times. The character of a child too is an important aspect that a lot of value is given to it. The school has an immense campus and top-notch facilities that ensures a child's proper care and education.
Mount Litera Zee School
Mount Litera Zee school prides itself in providing its students with classes that they can fall in love with, because they teach by creating a fun environment that has numerous activities to ensure a child is having fun. These activities also make sure that the child learns and develops their cognitive skills and social skills, making sure that children develop their confidence by speaking in front of their colleagues and classmates and giving them a confident start for their future.
Rani Laxmi Bai Public School
Rani Laxmi Bai Public School in Jhansi offers first to twelfth grade at the coeducational, boarding and day. It prepares students for the ICSE examination in class 10 and the Indian School Certificate (ISC) examination in class 12. It offers top-notch education that enables and motivates students to be enthusiast ic learners, responsible citizens, and fulfilled people who can make educated decisions in a diverse and fast-paced society. The innovative approach of the school makes it a top ranking school of jhansi.
St. Francis Convent Intercollege
St. Francis Convent is a girls only school that has been established in the year 1898 and holds a proud history of successful students and diligent teachers. The school seeks to foster holistic growth that extends beyond the academic context by providing its community members with a vast array of resources and opportunities and by encouraging them to recognise the value and significance of a well-balanced and restorative leisure. This is demonstrated by St. Francis' commitment to the classical ideal "a sound mind in a sound body" making it one of the best schools in Jhansi.
Sherwood College
In the centre of the ancient city of Jhansi, Sheerwood College is peacefully located on a 10-acre campus that is covered in lush greenery. The school started off with just fact 400 students in their initial year. In just 16 years, the school has transformed from a group of academicians' dream project to a significant institution in the sphere of education. The school's infrastructure, which includes 75 rooms, sizable fields, a 700-seat auditorium, two courts for badminton, a splash pool, a swimming pool, a room for table tennis, a skating rink, and three rooms for audiovisuals, certainly makes it a place to be proud of.
Mahatma Hansraj Modern School
Hansraj modern school has become a destination of choice for those who believe in an authentic method of education and the inculcation of an ethical value system. The school has been a pioneer in providing world-class education with an emphasis on the holistic development of each student. The school is advancing along a path that revolves around spreading the light of knowledge in an effort to bring the best education to the most remote regions and to unearth hidden talent making it one of the top ranked schools in Jhansi.
Christ The King College
Christ The King College, which is run by the Catholic Diocese of Jhansi Education Society, was established in January 1940 by the late Bishop F. X. Fenech and has since been sustained by His Lordship Rt. Rev. Frederick D'Souza (Bishop of Jhansi). Christ The King College Was Mainly Founded To Provide Education For The Catholic Children, Especially Of The Anglo-Indian Community, A Sound General Education In The Medium Of English. Catholics, especially Anglo-Indians, are therefore given preference in the admissions process; however, children from other communities are also admitted.
The infrastructure has a very spacious building along with well-furnished classrooms and equipped labs that ensure proper coaching of the students. There are a large number of top schools in Jhansi to choose from, we have listed the top 10 schools. Skoodos team help you with the best schools search and conduct a thorough comparison between the schools in order to make an informed decision.
---
Published on:

19 Jan 2023